No joke, April is Financial Literacy Month. And MSU Federal Credit Union and its campus partners have a full schedule of financial education opportunities, known as Money Smart University, planned for students starting on Monday, April 1 and running through the evening of Thursday, April 4.

The four days of financial education are part of an annual national financial literacy initiative known as Money Smart Week (MSW). MSW, started in 2002, was designed to help consumers of all demographics and income levels better manage their personal finances through presentations and events by financial institutions, community groups, government agencies, and more.

This marks the fifth year that a committee consisting of people from MSUFCU, the MSU College of Social Science, Department of Human Development & Family Studies, Department of Economics, MSU Libraries, MSU Extension, and the Office of Financial Aid have hosted MSW events on campus. Not only will all the events provide great education, but there are also opportunities to win prizes and scholarship money during Thursday night's GeoCache & Financial Resource Fair (held in the lower level of Shaw Hall).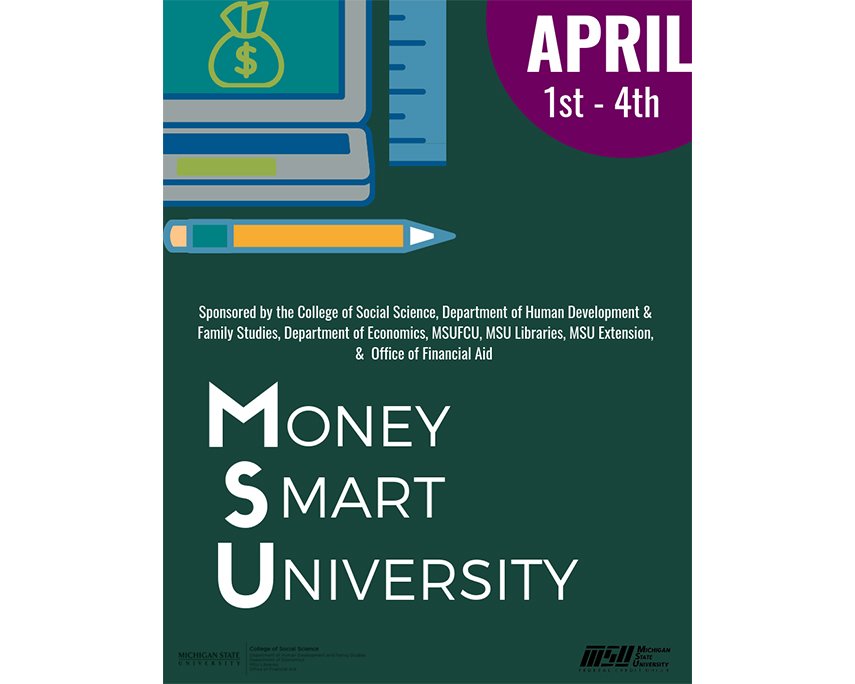 Here is a look at the schedule of Money Smart University events this week:

Monday, April 1, 2019
So you are getting ready to graduate, now what?
1:30 p.m. – 2:30 p.m. Human Ecology, Room 9

MSUFCU Financial 4.0: Credit Education
6:00 p.m. – 7:00 p.m. Hubbard Hall, Room G-29

Financial Aid Drop in Advising
9:00 a.m. – 4:45 p.m. Students Services Building, Room 252


Tuesday, April 2, 2019
Financial Expert Panel
1:00 p.m. – 2:20 p.m. Wilson Hall, Room C102 (*part of HDFS 238*)

"Get Money" Fireside Chat with Author
6:00 p.m. – 8:00 p.m. Human Ecology, Room 300

Financial Aid Drop in Advising
9:00 a.m. – 4:45 p.m. Students Services Building, Room 252


Wednesday, April 3, 2019
MSUFCU Financial 4.0: Investing 101
6:00 p.m. – 7:00 p.m. Brody Hall, Room 175

Financial Aid Drop in Advising
9:00 a.m. – 4:45 p.m. Students Services Building, Room 252

Thursday, April 4, 2019
GeoCache & Financial Resource Fair
6:00 p.m. – 8:00 p.m. Lower Level Shaw Hall

Financial Aid Drop in Advising
9:00 a.m. – 4:45 p.m. Students Services Building, Room 252